Thinking About Trying Out Crossfit In
Bellevue? Then This May Be The Most
Important Website You'll Ever Read...
(Plus $50 Dollar Rebate At The Bottom Of This Page.)

Click here to skip the website and get your rebate...

Hey my name is Sean Bissell, and I'm probably a lot like you. I heard about Crossfit awhile ago, but was pretty skeptical until one of my buddies started going and absolutely loved it.

He recommended I go check it out myself. So I did.

I thought I might absolutely hate it,

but I was completely wrong.



After my first workout I was hooked. It was so awesome.



Little did I know, there was a secret reason why I liked it so much. And believe me, the reason I got hooked, is important to you too...



What's the reason? Well I had no idea at the time, but the gym in Bellevue that I had been going to is run by the absolute best trainers in the entire country.

If not the entire world.



That's a big claim to make, but it's true, and I can

prove

it. The trainers at NWCrossfit in Bellevue have many members who are complete beginners, and their trainers also recently won the prestigious "Affiliate Cup" at the last Crossfit games.

That means that with Northwest Crossfit in Bellevue, you are a perfect fit, whether you're a complete out of shape beginner, or if you need an extreme challenge. They've got you covered both ways.



No other Crossfit gym can say that in Washington State,

or I would even realistically say the entire USA.



Check it out: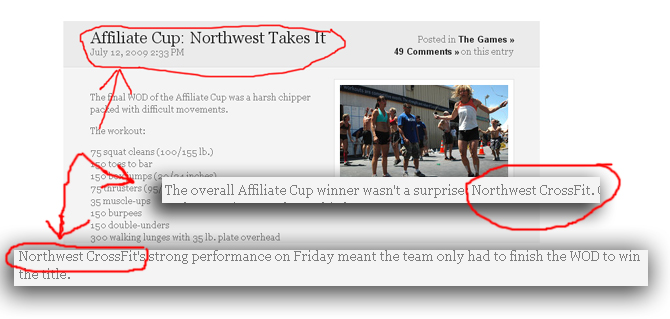 And you've gotta see this cool video of part of the event:

Honestly, there's not even a point in going anywhere else. You should at the very least, check it out. Tour the facility, and talk to the trainers.



Where is NW Crossfit in Bellevue?



Here's the address:

12121 Northup Way Suite #110
Bellevue, WA 98005

But how do you actually

get

there?

If you know where Lowes hardware in Bellevue is, it's actually right across the street.

Here's a picture of a map.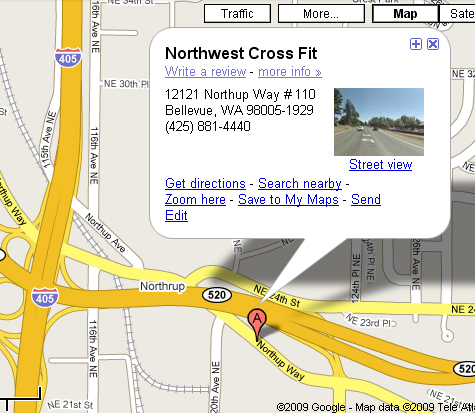 Here's a little more detail...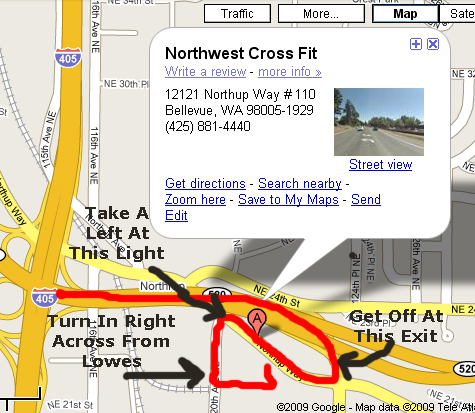 Here's a link to the map on Google

The trick is that when you turn next to Lowes, you have to keep driving down the driveway until you get ALL the way to the end. The crossfit will be on your left.

Here's what the driveway looks like that you have to drive down.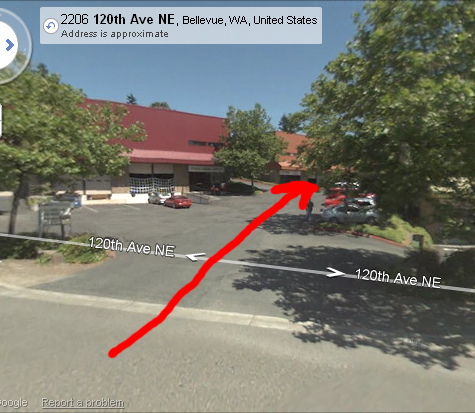 So why am I writing this review?



NWCrossfit is trying to grow their membership right now, and I wholeheartedly support that effort. And if you sign up and let them know that Sean Bissell referred you, I'll give you a $50 rebate.





That's right, $50 cold hard cash, I can give it to you through PayPal, or I can meet you in person. (I'm at the Bellevue Crossfit location every Tuesday and Thursday at 6:30pm.)

How and why would I give you $50 just for signing up? Well, in the effort to grow the Bellevue NWCrossfit, the owner is offering a discount on my monthly dues if I find people to sign up. And I want to give you a peice of that for putting your faith in me and NWCrossfit Bellevue.



How do you get your rebate from me? It's very simple...



1.) Just enter your Full Name and email into the form below right now.
2.) I'll give you a quick email confirming I got your information.
3.) Sign up at the Bellevue location and let them know that Sean Bissell referred you.
4.) Then just email me back, or at Sean.Bissell@gmail.com and let me know you signed up. Then I'll rush you your $50 in whatever way you'd like. (Paypal, check, or in person.)


Enter Your Details Below To Grab Your $50 Discount





If you go to NW Crossfit in Bellevue, then print out this cupon and give it to one of the trainers. (Hopefully you'll give it to Walter, he's cool.) Then they'll give you a free workout just to make sure you like it. Then when you sign up. Let them know Sean Bissell sent you, and

make sure to let me know you did.

That way I can give you your $50.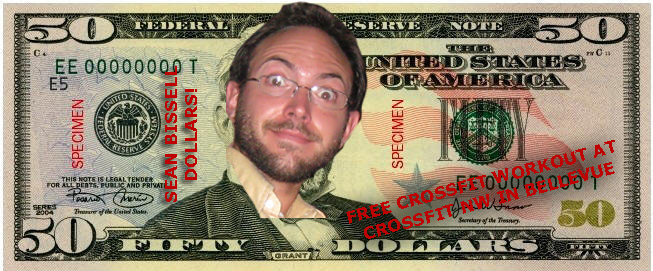 And that's it. Check it out today, don't wait, you'll absolutely love it, and if you don't you don't have to pay anything to find out. It's a free workout, and if you do sign up, then you get $50 back.

So what are you waiting for? Go workout at the best Crossfit location on the planet, and go train with the top trainers today. Don't settle for less, go to NWCrossfit.

Thanks, and see ya at the gym!

-Sean