Fitness for Fun People | About Yummy Fitness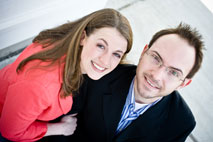 Yummy Fitness was founded in May of 2008 by Sean Bissell and Lindsey McGuire after they realized there was an easier way to look and feel great than what is generally told to people.
Instead of having fitness contribute to their lives, it was actually robbing them of the things they loved to do. And they weren't getting the results they were looking for either. In addition, they hardly had time for friends and family, and they couldn't eat the foods they loved. Fitness essentially became their second job.
They knew there had to be a better way.
After returning from a trip around the world Sean came back with some insights that would rock the weight loss industry to it's knees. But he kept his insights to himself… that is, until he met Lindsey.
With Sean's insights, and Lindsey's help, they came together with a way to reverse the "tide" of the diet industry. And instead of cramming yourself into someone else's diet, now you can have your diet tailored to who you are as a person, eat your favorite foods, and still lose weight.

Their ground breaking weight loss method is called "Wing It Weight Loss" and can be seen here: Wing It Weight Loss
Welcome to Yummy Fitness!
To contact Sean please email Sean@YummyFitness.com
.
.
.
.
.
.
.
.