Even Dogs Get De-Motivated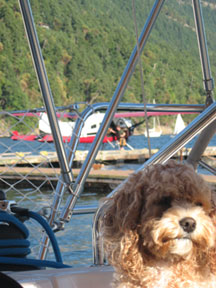 That's her on the left. Clover the "Super Diet Dog" as we call her…
I'm honestly not really sure how that name started, but it sure did stick.
Clover (a cocker spaniel/poodle mix) is an incredible dog, she's a rescue and Lindsey and I have had her for about 9 months now. She's about 2 and a half years old, and she's had a real rough past.
In a nutshell, she was born in a puppy mill (if you don't know what those are, go and look it up, they are not fun) she was then purchased by an owner who kept her in a kennel just about 24 hours a day 7 days a week. The only time she was allowed outside the kennel she was held in the owners arms, never set down on the ground, and if she barked or made any noise her owner would forcefully grab her mouth and hold it shut.
This went on for well over a year until a neighbor "blew the whistle" on her owner and she was forced to be given to another family. That family then held onto her for a bit, but couldn't actually  keep her due to her rental agreement and that's how we got her.
When we got her she didn't know what a leash was, she was scared of the dark, shadows, cars, people, other dogs, open doors, shut doors, basically anything and everything scared her into immobility. Over the months we have had her we've coaxed her into enjoying the real world.
It took a lot of effort but now she does basically everything we do, she goes walking, running, hiking, she loves car rides, and she even is completely at home on the family sailboat and recently spent 2 weeks straight out on the water with Lindsey and myself exploring islands, sailing, enjoying the open waters and loving life.
She went from basically a completely "frozen" state to a state of mind where she gets some of her greatest enjoyment out of going on a run with Lindsey and myself. She especially loves going running on the trails through the nearby woods.
Recently, after getting back from our 2 week sailing trip, both Lindsey and I took a break from our normal workout routine. Life got a bit hectic and we were a bit off of our "track."
That's not a problem, and I actually like taking brakes, but I realize that sometimes after taking brakes it can be hard to get back into the "swing" of things.
Well it seems like that's also the case for dogs!
I had no idea that Clover would be so effected by our break from running, walk or hiking, but sure enough she certainly was.
For the past couple days we've tried to get her to go on a run with us. We psych her up and ask her in our "puppy" voice "You wanna go on a run?!" She would get really excited, jump up and down and go for her leash. We would then put her leash on, walk out the door, and all of a sudden she would…
STOP!
Slam her back legs into the ground, extend her front paws, arch back her neck and refuse to move.
You could push her, pull her, move her legs around in a walking motion, pick her up, set her down, and she would still not budge.
The only direction she would go is backwards toward the door. She was more than happy to go back, but not out on a run.
We picked her up, and walked her about a quarter mile in the opposite direction from where we started, put her down, and she still wouldn't move. Not a bit. Except if we turned around, she was more than happy to go back, in fact just to test the theory, we started running back, and she was happy to run right along, but the second we turned around, she just slammed on the brakes again.
This went on for a long time, we didn't win, she didn't win, and it was a generally frustrating experience.
Over a few days this happened, we really didn't know what was going on, but guessed that she was just being stubborn. (She is a little stubborn, but very smart.)
Eventually Lindsey got the idea in her head that maybe she was just de-motivated and needed a bit of fun to get back into the running experience she used to enjoy. That made a lot of sense to me because I generally need to have fun or I get de-motivated myself.
With this thought in mind, we decided to get her in the car and go to the park she enjoys the most, it's got tons of running trails, woods, it's right on the lake, and she loves all of that stuff. When she got out of the car and we put the leash on her, the same exact thing happened… she slammed right back on the brakes.
"Aww MAN!" I thought to myself… We've got a broken dog! We can't even walk her anymore!
We spent about 10 minutes coaxing her just to walk past the parking lot, into the open grass, and she still was moving at about the speed of a talented slug. That is until…
She saw the trail head!
Lindsey decided to try and get a "rise" out of Clover and started sprinting towards the trail, Clover really perked up, but still didn't move. Then I looked her in the eye, kneeled down to her level, then whispered in her ear "Go get Lindsey!" and pointed in her direction excitedly.
Clover leaned forwards, twitched a little, her ears raised up, and then… BOLTED! Towards the trail. And she never looked back, she ran and ran and ran until she got to the water, she jumped in, drank a bunch of lake water and kept running some more.
She even got so excited she found a new trail we didn't know existed, we ended up following her, and getting lost for about half an hour

It was really fun, and worth the trip, and now I'm happy to report that Clover is back to her "normal" fun loving self.
I think this story really does illustrate an important point about general "workout psychology" and that is: It's very easy to get de-motivated if you get off track for too long, and one of the best ways to get back into your routine is just to make it fun for yourself in any way that you can.
If you've ever been de-motivated or off track, don't feel too bad, it effects us all… Even dogs get the de-motivational blues.
Check out our free and revolutionary weight loss program…