June 7th, 2008 . by Sean Bissell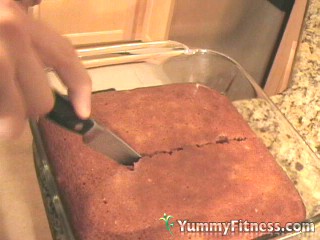 Ingredients: (Makes 8 servings)
• 1 Tbsp Milk
• 1 Egg
• 1 1/4 cup Applesauce (Unsweetened)
• 1/2 Cup Mashed Banana
• 3/4 Cup Whole Wheat Flour
• 2 Scoops Protein Powder (Flavorless or vanilla) (The protein is optional)
• 1/2 Cup Xylitol (For more information about xylitol visit this site)
• 1 Tablespoon Honey Crystals (or your choice of sugar)
• 3/4 teaspoon Baking Powder
• 1/4 teaspoon Baking Soda
• 1 1/2 tsp Black Pepper
• 1/2 Tablespoon Cinnamon
• 1 teaspoon Vanilla Extract

Preparation:
Mix together all dry ingredients into a large bowl. In a separate bowl mix together all wet ingredients. Pour all wet ingredients into the bowl with the dry ingredients, then mix together well.
Pour the mix into a baking dish.
Preheat the oven to 350 degrees and bake anywhere from 35 minutes to 50 minutes depending on how deep the dish you use is. You can tell this is done by sticking a toothpick into the bread. If the toothpick comes out dry, then the bread should be done.
Take out, let cool and enjoy!
This bread should be kept in the refrigerator, and is best eaten fresh. It's a very moist banana bread recipe for how little fat it has, and it's best when it's warm.

Nutritional Information: (per serving)
Calories: 98
Protein: 8 grams
Carbohydrates: 15 grams
Fat: Less than 1gram

Check out our free and revolutionary weight loss program…


Watch the video below to see how to make this banana bread.
www.cavemandiet.org | polarised sunglasses | Chiming Wall Clocks | www.solarpowerhouse.org | yeast infection | grow herb garden | gun cabinet |