7 Layer Salad Recipe | (Video Recipe Inside)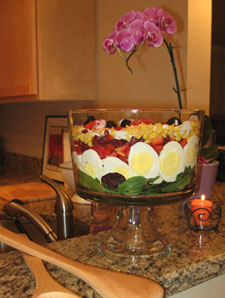 Ingredients: (Makes 5 servings)
• 4-8 cups lettuce (your choice of how much you wand and what kind)
• 1 Red Bell Pepper
• 1 1/2 cup Grape Tomatoes (Make sure to set aside a few to put on top of your salad when you are done.)
• 1 1/2 cup Corn
• 6 Jumbo Black Olives
• 1 1/2 cup Kidney Beans
• 3/4 cup Low fat Sour Cream
• 1/4 cup Light Sharp Cheddar (Sharp has the most flavor for any light cheese)
• 12 oz Cubed Chicken Breast
• 4 Boiled Eggs
• 1 1/2 tsp Black Pepper
• 3/4 tsp Ground Oregano Leaves
• 3/4 tsp Garlic Powder
Preparation:
Chop up the red pepper into small cubes, and slice your tomatoes in half. Cook the chicken breast and chop it up into small cubes, also boil the eggs and then slice them into layers. Next put the lettuce on the bottom of a medium sized bowl (preferably clear so you can see the layers) and then push the sliced eggs up against the glass for visual appeal. Then add the chicken cubes, tomatoes, red peppers, then the corn, and kidney beans.
This will give you your first layers.
Next make the dressing in a separate bowl. First put in the sour cream black pepper, oregano, milk, and garlic powder, and mix together with a wire wisk.
Pour this mixture on top of the salad and smooth out with a spatula. Next sprinkle your cheese on top and put the remaining tomatoes and black olives on top.
Keep refrigerated.
Enjoy!
Nutritional Information: (per serving)
Calories: 351
Protein: 30
Carbohydrates: 29
Fat: 12
That's a great 7 layer salad recipe that won't bust your calorie budget.
That's right folks; our version of the 7 layer salad recipe is actually good for you!
Not only does this one taste and look great, but it is perfect for anyone trying to lose weight, or gain lean muscle.
Why is this recipe so great from a nutritional standpoint?
Well, it's got a 40% protein, 40% carbohydrate, and 20% fat ratio, which is a great balance of these important macronutrients.
And it is a very low calorie recipe that is still packed full of calorie burning, and muscle building protein, and good carbohydrates. In fact for a very filling serving, you'll be looking at only 351 calories. It also packs a punch with 30 grams of protein, 29 grams of carbohydrates and 12 grams of fat.
I challenge you to find a better looking, tasting, or a better 7 layer salad recipe from a nutritional standpoint. I bet you can't

And the best part is, no one will know this is actually good for them.
I hope you enjoy! (Video Below)

Check out our free and revolutionary weight loss solution…

And remember if you're trying to lose weight, or want to lose weight, you can enter this recipe into OK-Cal, our free software that helps you accelerate your weight loss results.
Click Here! to download OK-Cal today.
Have Fun!








caveman diet | Medifast Alternative | solar power house | best spyware removal | new york accountant | romertopf | wine | Shades - San Diego | top causes of death | Best Freezer